The ACPA National Office, along with professional industry experts in the concrete pumping industry, have developed a variety of safety publications and materials to provide you with a wide array of knowledge for creating a safe working environment around concrete pumps on the job site.  Download any of the FREE safety materials offered below or if you can't find what you need, be sure to check out the Online Store.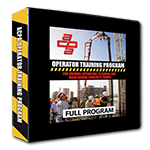 ACPA Operator Training Program - Full Program:  Developed by professional industry experts, the ACPA Operator Training Program is a 23-day program, which will guide you towards effectively training your new operators. Your trainee will learn safe concrete pumping skills and practices whereupon after a successful completion of the program, your trainee will be designated a Trained Professional in the field of concrete pumping.
To find out more information or to order your copy - CLICK HERE!*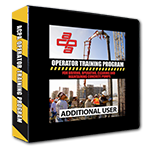 ACPA Operator Training Program - Additional User: This program is designed to be used in addition to the Full Program when training multiple operators.
To find out more information or to order your copy - CLICK HERE!*
* This program does not fulfill the safety education requirement for certification.  Operator must view and complete the 4.01 Safety Presentation, which is not included in this program or attend an Operator Safety Seminar.   Available in English only