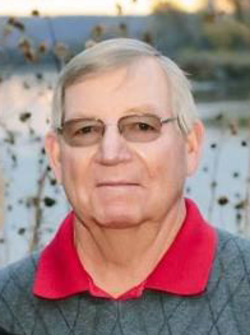 John Richard "Dick" O'Dell was born May 8, 1943, in Seward, Nebraska and passed away in Scottsdale, Arizona on July 18, 2018, at the age of 75 years, 2 months, 10 days.  Dick was the son of John Robert and Nellie Marie (Kilzer) O'Dell.  He was a 1961 graduate of Seward High School.  On April 5, 1964, Dick was united in marriage to Karen Sue Gray in Meade, Kansas.  Their marriage was blessed with two children, Brian and Kristin.  Dick and Karen lived all of their married life in Seward where they raised their family and built their business. Dick was baptized as an adult on August 15, 1974, and confirmed on August 18, 1974, both at St. John Lutheran Church, Seward.
Dick started as a bricklayer at age 16.  He began his career with Mueller & Odell Masonry in the Fall of 1963.  Following Werner Mueller's sudden death in the mid-70's, the company became O'Dell Construction Company and transitioned from bricklaying and concrete flatwork to a residential and commercial poured wall company.  One of their most unique and high profile jobs during this time was the Davisson Time Capsule in Seward.
O'Dell Concrete Pumping Service began in 1995 when the first truck-mounted concrete pump was purchased and developed into a business of eleven concrete pump trucks and operators, a dispatcher and a salesperson, plus three people in the office.  The projects they were involved with developing include:  Dodge Street Expressway, Riverfront Towers, Hyatt Hotel, numerous Interstate bridges, the Seward Swimming Pool, Seward Library, Concordia Health, Human Performance and Wellness Center, Pinnacle Bank Arena and the East Stadium addition at UNL.  The second business, Self Serve Storage, began in 1986 and included 172 units plus space for recreation vehicles, boats and automobiles. These were the first storage units in Seward.
Dick's memberships included:  St. John Lutheran Church, Seward Lions Club, Seward Men's Bowling Association Hall of Fame, Seward Golf Association, Legend Trail Golf League, Nebraska Golf Association, University of Nebraska Foundation, Poured Concrete Wall Contractors Association of America, American Concrete Pumping Association, American Concrete Institute – Nebraska Chapter, Seward Area Chamber of Commerce, Seward Lumber Board of Directors.
Following the sale of their pumping company in 2013 and the storage units in 2015, Dick and Karen spent their time traveling, spending winters in Arizona and most of all enjoying their children and their spouses and their two grandchildren.  Dick's hobbies included fishing, bowling, camping with the family and most recently golf.
Dick is preceded in death by his parents, John R. and Nellie O'Dell; brothers, Dennis and William "Bill"; sisters, Betty Shook and Rebecca Sampson; nephew Jeffrey Shook; father-in-law and mother-in-law, William T. Gray, Jr. and Stella Rebecca (Bohling) Gray.
Survivors cherishing Dick's memory include his wife, Karen, Seward; son and daughter-in-law, Brian and Kathie O'Dell, Wahoo; daughter and son-in-law, Kristin and Dave Owen, Lincoln; grandchildren, Brandon O'Dell, Lincoln and Kaylee O'Dell, Omaha.  Additional family survivors include:  brothers and sisters-in-law, Ron and Margie O'Dell, Kingman, AZ, Tom and Becky O'Dell, Bee; nieces and nephews; sister-in-law, Janet and her husband Rick Urban, Ft. Collins, CO and a host of friends. To this obituary, we add our thoughts, prayers and memories of life shared with Dick.
Celebration of Life:
Monday, August 6, 2018
10:30 AM
St. John Lutheran Church
919 N Columbia Ave
Seward, NE 68434
Signing of Remembrance Book:
Sunday, August 5, 2018
1:00 PM - 8:30 PM
Zabka Funeral Home
410 Jackson Ave
Seward, NE 68434
Family Receiving Friends:
Sunday, August 5, 2018
2:00 PM - 5:00 PM
Zabka Funeral Home 
410 Jackson Ave
Seward, NE 68434
Private Family Inurnment and Graveside Service:
Greenwood Cemetery 
More information: http://www.zabkafuneralhome.com/memsol.cgi?user_id=2122652