Dallas, TX
Gaylord Texan Resort & Convention Center
 
ATTENDEE REGISTRATION RATES:
Member: $500*
Non-Member Pumper: $650*
Non-Sponsoring Manufacturer/Distributor: $795*
Member Spouse/Guest: $350
Non-Member Spouse/Guest: $500
*Registration Fee includes access to one NRMCA ConcreteWorks 2017 session.
ACPA Education Conference "Building the Momentum"
The 2017 ACPA Education Conference is scheduled for October 2-3, 2017 at the Gaylord Texan Resort & Convention Center in Grapevine, Texas (a suburb of Dallas). Our conference is growing to become the the education source for the concrete pumping industry. This year's event continues the exciting transition for the exposition portion of ACPA's Education Conference as we continue to expand the size of the exposition hall. This is also the second year we will be co-located with NRMCA's ConcreteWorks. NRMCA's presence brings even more equipment and industry personnel to the show and we are very excited about our continued partnership.
More information coming soon - check back often for updates!
---
Gaylord Texan Resort & Convention Center
1501 Gaylord Trail
Grapevine, TX 76051
817-778-1000
Hotel Website
Group Room Rate: $209 + $20 Resort Fee
RESERVE YOUR ROOM:
Please use the information below to book your hotel room. NOTE: Please ensure the reservationist applies your reservation to the ACPA room block and NOT the NRMCA room block. 
Toll Free 24/7 number: 877-491-5138
For Speed and Convenience please mention:
Mini Hotel Code: ACP
Group Name: American Concrete Pumping Meeting
​
ACPA GROUP ROOM BLOCK:
For your convenience, ACPA has contracted a block of discounted guest rooms for ACPA's 2017 Education Conference attendees. To secure your room, please call the Gaylord Texan Resort directly. The ACPA guest room rates apply beginning September 27, 2017 through Wednesday, October 3, 2017. Subject to availability the discounted room rate will be available three days prior and post the dates listed above.
ROOM RATE:
The ACPA guest room rate is $209 per night for a Single/Double occupancy and $274 per night for Premium rooms, plus applicable taxes. A discounted resort fee of $20 per night plus taxes will be added to the guest room rate. This fee will cover several in-room amenities. All reservations must be accompanied by a first night room deposit. If you are paying for another attendee's room charges, please be sure to request and submit a "Credit Card Authorization Form" from the Gaylord in order to avoid the guest being asked for payment upon check-in.
The cut-off date for hotel reservations is by COB, Friday, September 15, 2017. After this date, the hotel may release any remaining rooms in the ACPA room block to the general public. The discounted rate is available until the cut-off date OR until the room block sells out, whichever occurs first. 
HOTEL DESCRIPTION:
Proudly displaying "everything's bigger in Texas," Gaylord Texan Resort & Convention Center invites you to a first-class experience with Southern hospitality. Overlooking the beautiful Grapevine Lake, this hotel offers a one-of-a-kind retreat with luxurious accommodations, first-class restaurants, eclectic shops and 4.5 acres of lush indoor gardens and winding waterways. The Gaylord Texan offers experiences that are distinct among other DFW area hotels. Unwind at Relâche Spa & Salon, enjoy a brisk workout in the state-of-the-art fitness center or make a splash at Paradise Springs, open seasonally. Your adventure at the Gaylord Texan will be as grand as Texas itself!
HOTEL FEATURES:
All public areas non-smoking
Barber/Beauty shop
Coffee/tea in-room
Complimentary local calls time limit
Concierge desk
Evening turndown service
Foreign exchange, nearby
Game room
Gift/newsstand
Housekeeping service daily
Laundry on-site
Laundry on-site, coin operated

​Limousine service
Local restaurant dinner delivery
Mobility accessible rooms
Newspaper in lobby
Phone calls: toll-free
Room service
Room service, 24-hour
Safe deposit boxes, front desk
Shoeshine stand
Valet dry-cleaning
Vending machines
Video games

Top
 
---
Featured Financial Workshop
Building Your Financial Foundation: A Hands-On Workshop for Business Decision-Makers
Presenter: Barb Nuss
Looking to build a better, stronger and more valuable concrete pumping business? How much more successful could you be with a strong financial foundation of information, knowledge and direction? When owners and managers have a consistent process for financial review and communication, they are able to better lead the way to operational strategies that separate the extraordinary companies from the ordinary.
Participants will discover the non-negotiables—the things all pump owners and managers absolutely must include in their financial management foundation—including:
What do the best in the business review each week, month, quarter and year?
What system of tracking equipment use, expenses and productivity is best for you?
How can financial statements reveal your profit and cash flow leaks?
What are the practical, proven ways to stop the leaks?
How can you assure your financial records are accurate, complete and reliable?
What financial goals and targets can keep you and your team focused and motivated?
What process of review and accountability will keep you on track with your goals?
Join ACPA study author Barbara Nuss, CPA, for an engaging, interactive workshop to discover how to transform your pump usage and financial information to decision-relevant tools.
Featured Session
Never Back – Always Forward: Sales Techniques for Expanding Your Market
Presenter: Brad Humphrey
Concrete pumpers are in constant motion to secure business. When we rest on our laurels … it's "curtains." This session is packed full of proven business development and marketing techniques designed to help you expand your market. You will find many strategies presented here that you will be able to use immediately … if not sooner! Brad's presentation is based on his own construction experience and more than 20 years of assisting hundreds of contractors grow their businesses. In this exciting economic climate, Brad's mantra for concrete pumpers is, "Never back; Always forward." Truly, there is never a better time to go on the offensive than when others are wondering about what their next move should be. Let Brad show you your next moves!
Learning points Include:
Understanding your market strengths and weaknesses
Mapping your competitors' past and current trends
Inexpensive incentives you can't afford to ignore
Profitable selling skills that many contractors have abandoned
How to be poised to expand your market
Exercises: how to interface with your clients and prospects
Featured Session
Call for Leaders: Practical Skills for Inspiring and Communicating to Your Team
Presenter: Brad Humphrey
Effective communication and leadership in this busy pumping environment is even more critical for your organization than ever. Ensuring that everyone on your team is working towards a common goal and that they can make the right decisions for your company when called upon to do so is paramount. However, in order to do that, they must first understand what is expected of them to make that right call. Brad Humphrey will address key skill areas that concrete pumpers and their leaders need to practice to bring quality, safety and more profits to their organization. Consider the following learning objectives for this session:
The difference between managers and leaders, and how to perform more like a leader.
Practical skills to influence people and obtain followers, including:


Creating vision
Building credibility and trust
Planning and analysis
Instilling ownership
Accountability
Strategic thinking and planning
 This workshop is especially beneficial for owners and sales, field and office leaders.
Pump Around Maintenance
Presenter: Exhibiting Pump Manufacturers
The pumps are here—say good bye to PowerPoint! In small group settings, you'll have an opportunity to learn "must know" general maintenance pointers discussed AT the pumps. As you rotate around the hall, each manufacturer will offer you valuable advice that applies to every concrete pump, allow you to climb around and look more closely, and give you time for questions as well. Get out of the classroom and spend time with some of that iron you know and love—this session offers you time to get up-close and personal with all the major pump manufacturers, right on the exhibit hall floor.
Risky Business: You Don't have to Shoulder All the Responsibility on the Job
Presenter: Mark Gruskin
Every time your pump pulls onto a job site, you're exposed to a variety of risks; many times, under circumstances which you have little or no control. Some of these risks, such as an accident or a back charge can be substantial enough to create severe consequences to your business. How can you minimize this exposure? What do you need to get signed before the work begins? What is it safe for you to sign? If confronted with a contract that contains one-sided or possibly damaging terms and conditions, what do you do? What does the indemnity clause need to contain, and what should you be on the lookout for? What do terms like 'additional insured' mean to your business?  Get the answers to these questions and more.
DOT Hours of Service: How Will the Upcoming Changes Affect YOUR Business?
Presenter: Joe Rajkovacz
Just when you thought you knew the rules, the next generation of FMCSA changes is about to take effect. This session will help you navigate the existing rules of DOT HOS, including on-duty and restart time periods, the proper use of driver logs, the 100-air mile radius reporting mandate and electronic logging devices (ELDs), as well as what changes will affect drivers of interstate and intrastate vehicles. PLUS—how will the recently-granted exemption for concrete pumps from the 30-minute rest break requirement help with your compliance? Learn how to implement the rules in order to operate without fear of violation.
Pumpable Mixes:  Designing a Mix that Works
Presenter: Rob Meltzer
Nothing can be more aggravating than struggling with a ready mix design that simply won't go through the pump. In this session, we'll uncover the components and methods to evaluate and combine cement, supplementary cementing materials, water, coarse and fine aggregates, as well as admixtures, to produce cohesive, pumpable concrete. Rob Meltzer will also relate his experiences in consulting on the design of specialty mixes for some of his more challenging projects: the piers and saddles on the Tappan Zee Bridge carrying Highway 287 over the Hudson River in New York; the Stantec Tower in Alberta, Canada, currently under construction and the tallest concrete structure in Western Canada; as well as designing pumpable concrete for over 150 bridges throughout Canada, including the Anthony Henday Ring Road in Edmonton, and the Stony Trail Ring Road in Alberta.
Predictive Analytics: Transforming Your Data from "No Value" to Invaluable
Presenter: Vaughn Burbidge
Successful concrete pumping companies don't just rely on "gut instinct" to make smart decisions affecting the operations of their businesses. Although no one has the ability to capture and analyze data from the future, historical data can be used to foresee the likelihood of future outcomes. Predictive analytics help organizations leverage their business knowledge by applying analytic applications to enterprise data. In this session, we'll show you how to utilize what data you have in order to gain higher-value insights into your organization's operations in areas such as maintenance; equipment utilization; when and what type of equipment to purchase; productivity and much more. Discover the value of "predictive analytics" and transform your data from "no value" to invaluable.
Accidents Happen: How Will You Respond if it Happens to You?
Presenter: Billy Smith
No one plans to have an accident, but you should have a plan if the unthinkable should occur. A swift and strategic course of action can help your company mitigate damages and allow you to handle situations of conflict and confrontation even in the most chaotic of incidents. During this session, you'll learn the do's and don'ts for how to respond, who to contact, how to handle the media, insurance claims, and what paperwork may be required to create your own actionable response plan in the event of an unfortunate accident. 
Building (upon) Your Company's Culture of Safety
Presenter: NBIS
Many pumping companies have an excellent safety program: They certify their operators, hold monthly safety meetings and utilize all the ACPA safety materials. But is that enough to protect the safety of your workforce and coworkers on the job? A strong safety culture has the single greatest impact on reducing workplace accidents and directly relates to the core values and sustained commitment of its leadership. Gain valuable insight on how you can foster your culture and reap the ultimate benefits of a safer organization.
ROUNDTABLE TOPICS:
Onboarding
Good help is hard to find—we all know that. Once you've hired, how do you onboard new employees to your team in a way that will engage them and get them climbing that learning curve quickly? Spend some time with your fellow pumpers to discuss topics that include everything from what a first day/first week should look like; sharing/reapplying learnings from one operator to another through training; team building; and even identifying red flags that indicate that additional time/attention might be required. Decrease your turnover by learning from your peers: Hire an operator and successfully onboard them to join your business being engaged and productive!
The Risks and Rewards of a Growing Concrete Pumping Company
"Success is not final, failure is not fatal." We've all had some great ideas—some worked and some didn't —but that didn't stop you from growing your business. What are others doing to minimize their risks and maximize rewards? How are they positioning themselves to thrive in the future? During this roundtable, participants will be encouraged to share their secrets for successes and quite possibly, the risks and failures associated with growing and managing their pumping businesses. 
Please check back often for updates!
---
Saturday, September 30
Exhibitor/Equipment Move-in: 7:00 am - 7:00 pm
Sunday, October 1
Exhibitor/Equipment Move-in: 7:00 am - 2:00 pm
Conference Registration: 3:00 pm - 7:00 pm
Welcome Reception: 4:45 pm - 7:00 pm 
Monday, October 2
Sessions: 8:15 am - 4:45 pm
Happy Hour at the Pump: 4:45 pm - 6:45 pm
Dinner/Entertainment: 6:45 pm - 9:30 pm 
Tuesday, October 3
Sessions: 8:15 am - 12:00 pm
Lunch: 12:00 pm - 1:pm
Exhibitor/Equipment Move-out: 1:30 pm - 6:30 pm
---
More information coming soon - check back often for updates!
Monday, Oct. 2
Room: A
Room: B
7:00am - 8:00am
 
8:15am - 9:15am
 
9:30am - 10:45am
 
 
10:45 - 11:00am
 
11:00am - 12:30pm
 
 
12:30pm - 1:45pm
 
1:45pm - 3:00pm
 
 
3:00 - 3:15pm
 
3:15pm - 4:45pm
 
4:45pm - 6:45pm
 
6:45pm - 9:30pm
 
Tuesday, Oct. 3
7:00am - 8:00am
 
8:15am - 10:15am
 
10:15am - 10:30am
 

10:30am - 11:45am

 

11:45am - 12:00pm
 
12:00pm - 1:00pm
 
---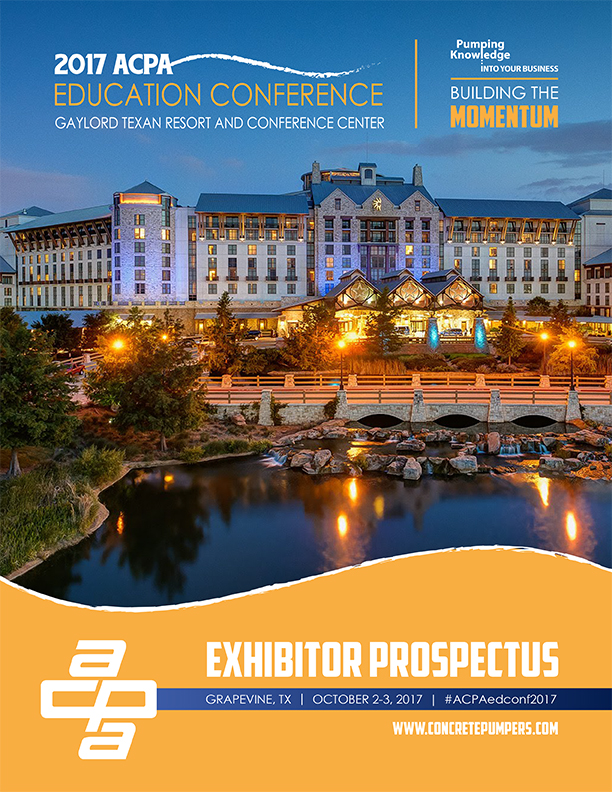 The application process this year is different than in years past as we are moving toward a priority formula for the assignment of exhibit space. Exhibit space is assigned in the order of priority points prior to July 1. After July 1, applications received will be assigned on a first-come, first-served basis. Please download the Exhibitor Prospectus by clicking on the image above for the Exhibit Application Form & Contract, the Exhibitor Attendee Registration Form and the complete guide to all rules and regulations associated with exhibiting at the upcoming conference.
Please direct questions to Sue Schumacher at 614.431.5618 or sue[at]concretepumpers[dot]com.
---
More information coming soon - check back often for updates!
---
Airport Information:
Dallas/Fort Worth International Airport (DFW) is the closest airport to the Gaylord Texan. The airport is 6 miles north from the hotel and travel to and from the airport will take approximately 10-15 minutes.
Ground Transportation:
Gaylord Texan does NOT offer transportation to/from the airport. The estimated taxi fare to/from DFW airport is approximately $25 each way. A Hertz Car Rental is located at the Gaylord Texan. Uber and Lyft are also available.
Hotel Parking Information:
Gaylord Texan offers on-site parking for $22 per day. Valet parking is $31 per day.